This Explosion Proof Hoist Pendant model BAK31 BAK51 has 8 button + emergency stop + rotary button. The explosion-proof control pendant has a simple structure and is widely used in explosion-proof appliances. It is a handle pendant used to switch on or off a small current circuit for a short time. It is mainly used in flammable and explosive hazardous electrical environments. Internal buttons and ammeters can be customized according to user requirements.
Features:
1. Die-casting aluminum alloy shell, and the surface is spray-painted with beautiful appearance;
2. Built-in explosion-proof button and ammeter;
3. The button with ammeter can monitor the running status of the hoist;
4. Steel pipe or cable wiring.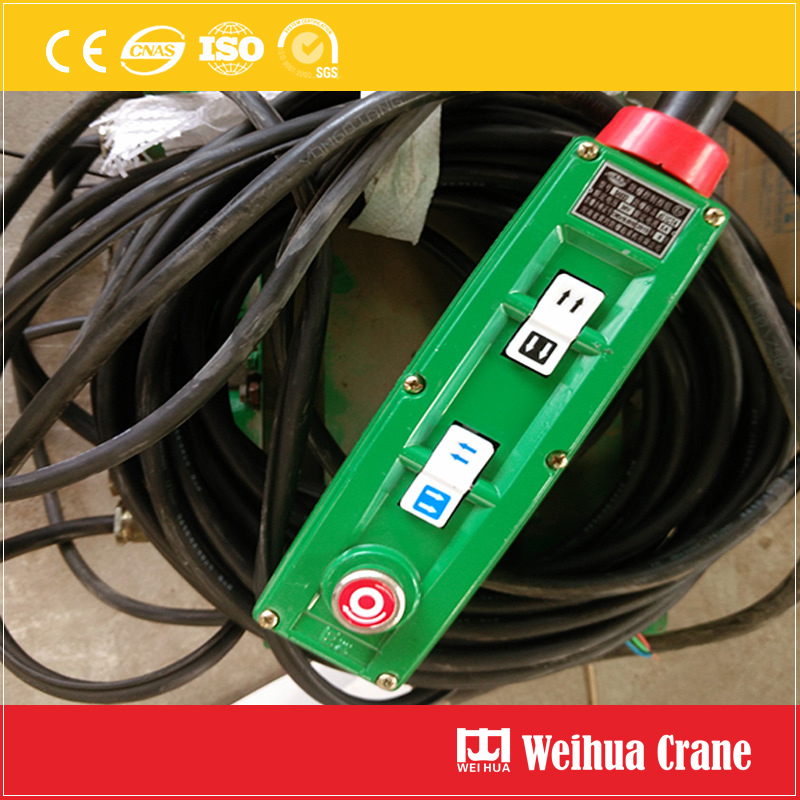 Classification and purpose of explosion-proof pendant control buttons:
Open button: Generally used on the panel of switch cabinet, console, and control cabinet.
Protective button: With a protective shell, it can protect the internal parts from mechanical damage or the operator from touching the live parts.
Waterproof button: with sealed shell to prevent rainwater intrusion, outdoor use.
Explosion-proof button: suitable for use in environments with explosive gas and dust such as coal mines.
Anticorrosive button: suitable for use in environments with chemical corrosive gases.
Emergency button: A large red mushroom head protrudes beyond the button nut for emergency power off.
Key-type button: It can only be operated by inserting the button with a key to prevent malfunction.
Rotary button: Rotate the contact with the handle to turn on or off the circuit.
Illuminated button: The button with indicator light can also double as indicator light.
Self-sustaining button: The button is equipped with a self-sustaining device, which is generally operated by a panel.
Two-speed button: The operation of the contact mechanism can be used to switch between two-speed motors with two windings without interruption through a contactor to ensure the mechanical performance of the motor and other cranes when the speed is changed.
The explosion-proof grade of the pendant is ExdibⅡBT6, which can be directly placed in explosion-proof places.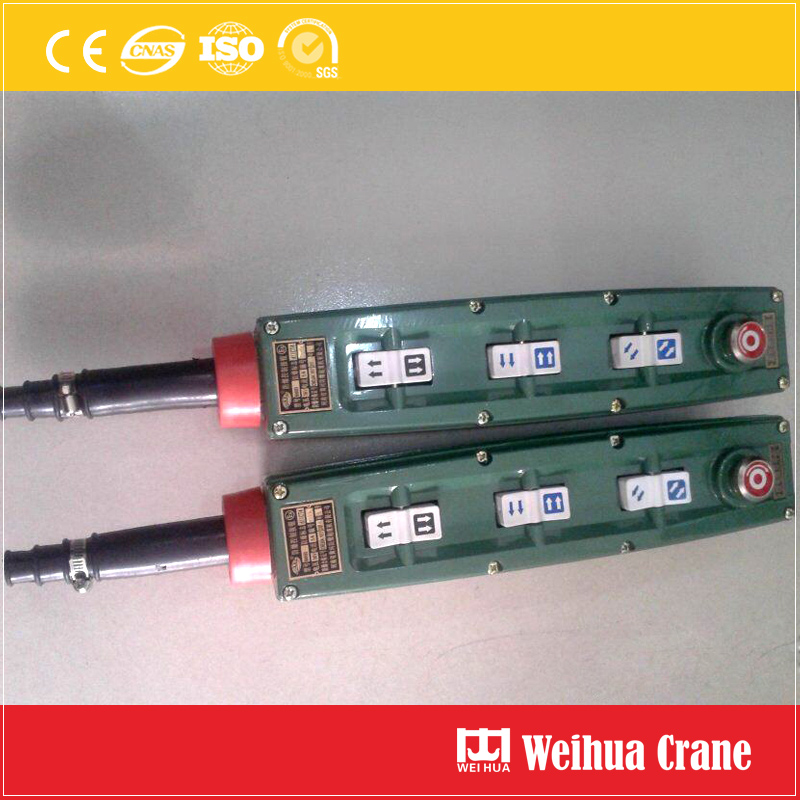 Great system capacity: The BK8000 controller system has a flexible combination, and a single controller can connect 2 intelligent address code detection circuits (each circuit can connect 198 addressing units). Controllers can be connected to a network, and the network can connect up to 32 controllers. In a network structure, the system can be complete
The full peer-to-peer communication network can also enable any controller to control the main controller.
Advanced bus communication methods ensure the reliability of the system.
Convenient bus structure and electronic code writing method: The controller is connected to the explosion-proof receivers, explosion-proof actuators, and other addressing units in a two-bus system. The electronic code is used, and there is no dial switch.
Self-test function: the controller has the ability of self-diagnosis of faults, and can continuously detect the working state of the detector and manual alarm button, accurately
Report the fault location and show it on the display.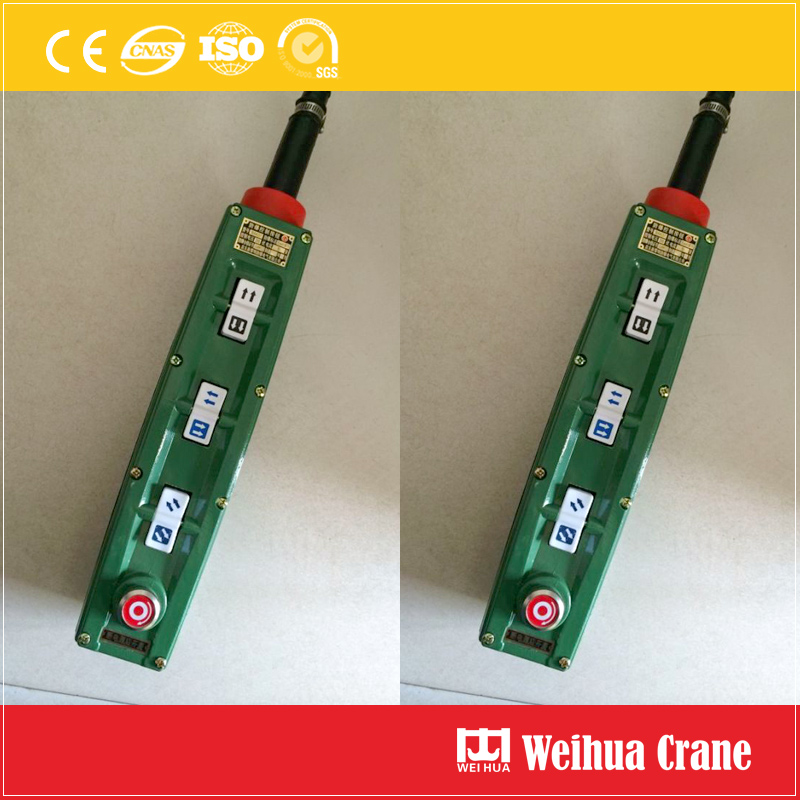 1. Explosive gas environment dangerous places: Zone 1 and Zone 2;
2. Flammable gas and vapor levels: ⅡA, ⅡB, ⅡC;
3. Temperature group: T6; low -25 ℃ high +40 ℃, the relative temperature of the environmental medium> 85%, the altitude does not exceed 2000m.
4. Indoor and outdoor (IP65).
5. Mainly used in the control circuit with rated voltage 500V, 50Hz or 60Hz current below 5A, and control voltage 42V, this product is strictly forbidden to use in the environment of flammable and explosive and dust medium.
6. The BAK31 explosion-proof control button complies with national standards and is safe and reliable.
7. BAK31 explosion-proof control buttons are used in conjunction with explosion-proof cranes. Such as LHBT explosion-proof electric single beam crane, LHBT explosion-proof electric double beam Suspension Crane, etc. In the explosive environment where this product is used, there should be no flammable gases or vapors as specified in the table below.
Explosion-proof level
Temperature group
T1 T2 T3 T4 T5 T6
ⅡC Water gas, hydrogen, coke oven gas, acetylene, phosphorus dioxide, ethyl nitrate
Weihua Crane is a China leading crane manufacturer providing professional Overhead Crane, EOT Crane, Gantry Crane, suspension crane, Electric Hoist, Container Crane, Crane Components, fem/din standard crane, etc.
Hompage: http://www.weihuacraneglobal.com
https://www.weihuacranefactory.com
E-mail: weihua(at)craneweihua(dot)com
Looking for ideal Explosion Proof Pendant Manufacturer & supplier ? We have a wide selection at great prices to help you get creative. All the Explosion Proof Handle are quality guaranteed. We are China Origin Factory of Explosion Proof Electric Hoist Pendant. If you have any question, please feel free to contact us.